Four needles for jersey
"Which are the best needles to use for jersey fabric?" We get asked this question time and again. In actual fact, there is a wide range of needles that are all suitable for certain fabrics. Of course, many fabrics can be sewn using a universal needle. But sometimes you just need THE perfect needle to reach your goal.
In principle, there are four special needles to choose from for knitted fabrics: The Jersey Needle, the Stretch Needle, the Super Stretch Needle, and the Black Super Stretch Needle.
"But which is the right one?"
The answer is: It depends on what type of fabric and what type of thread you want to work with.
#twinneedle #twinningiswinning #jersey

The Jersey Needle
Knitted fabrics that contain no spandex can be sewn with a Jersey Needle. The tip of the Jersey Needle (SUK) is rounded so that it can push the fibers of the fabric to the side, penetrating the gaps in between. The needle therefore prevents the loop from getting damaged.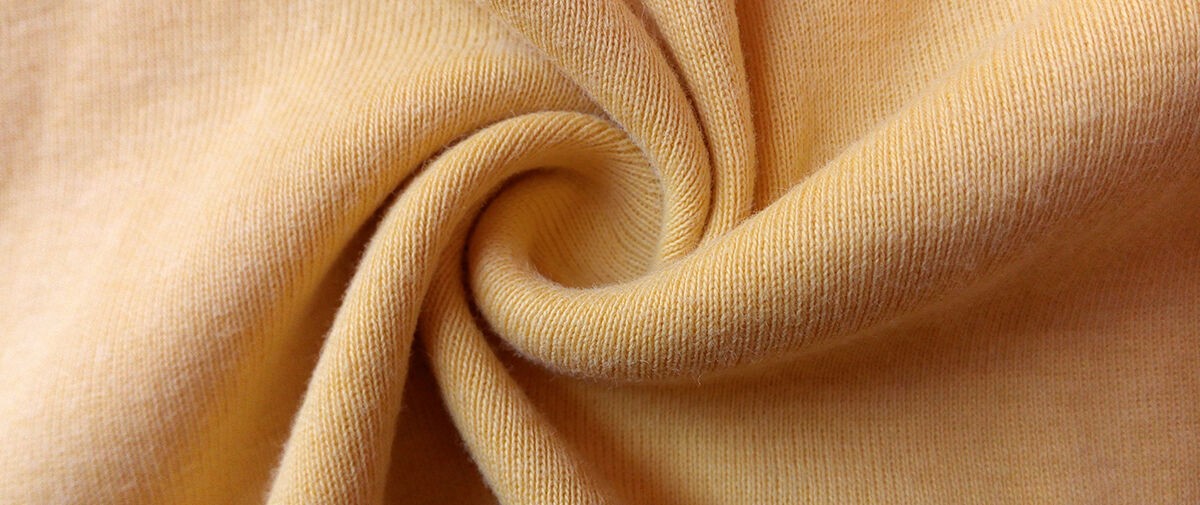 The Stretch Needle
If the knitted fabric contains spandex (i.e. it is elastic), use a Stretch Needle. In addition to the medium ball point tip, this also features a special scarf shape and unique eye section. What's more, this needle is flatter, which means it sits closer to the hook. This prevents skipped stitches, which are otherwise a common issue in elastic materials.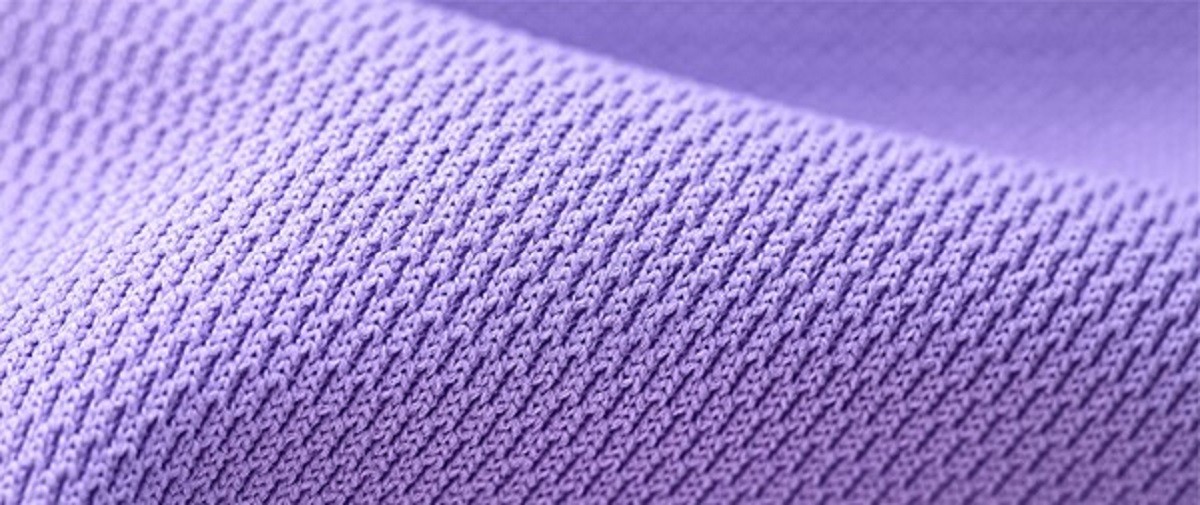 The Super Stretch Needle
And for everything that you want to sew with a thicker thread – or as an alternative to the Stretch Needle – use the Super Stretch Needle. Like the Stretch Needle, it is flatter to prevent skipped stitches. The wider eye combined with the larger thread groove also allows for hassle-free sewing with thicker threads. Thanks to its special blade design, the Super Stretch Needle can also be used for thicker or more rigid materials (or seams), which could otherwise cause the needle to break.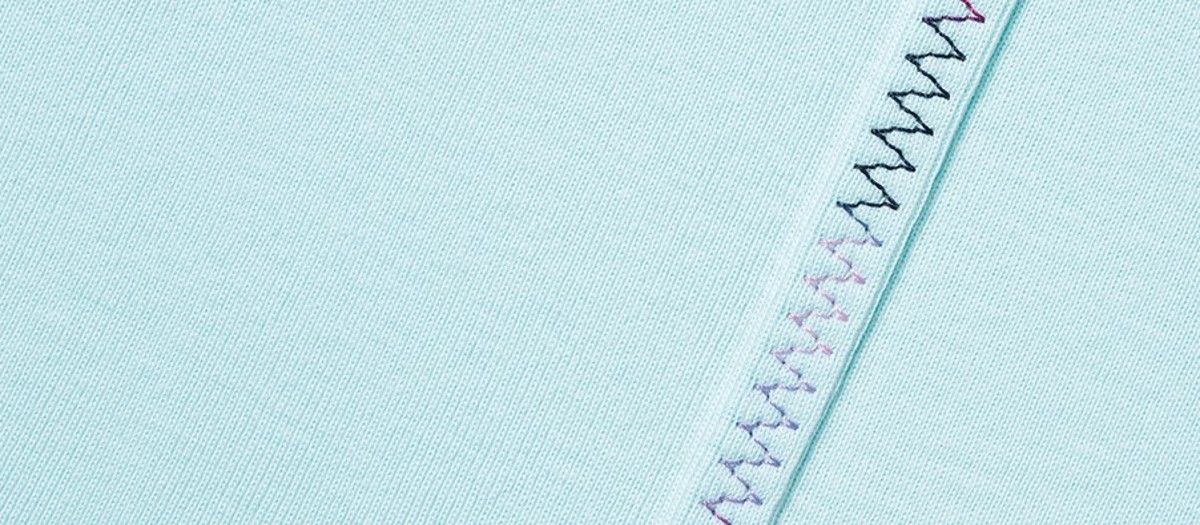 The Black Super Stretch Needle
At first glance the Black Super Stretch Needle and the Super Stretch Needle seem to differ only in color. And in fact, visually that is the only distinguishing feature – although there is of course much more to it than just a visual "update": The Black Super Stretch needle owes its black color to its non-stick coating. This nonstick coating ensures gentle processing of delicate fabrics and prevents adhesions to the needle. In combination with the wide eye and the widened thread groove, it also prevents thread breakage – even with thicker threads.
So, when it comes to fabrics or yarns that require particularly gentle processing, the Black Super Stretch needle with its special combination of features is the ideal solution.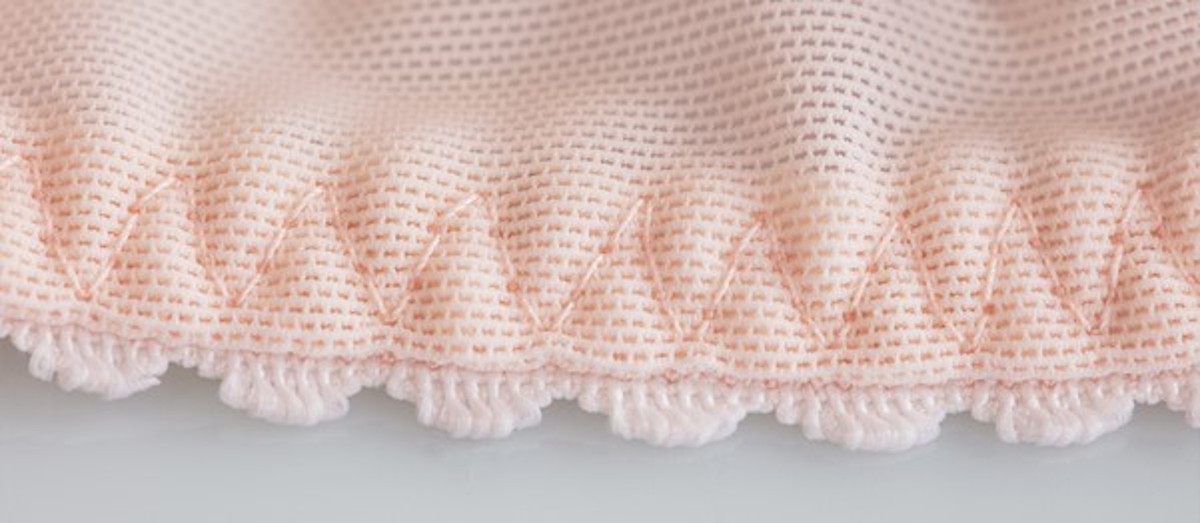 Tips for using the needles:


Jersey Needle
For knitted fabrics without spandex

Stretch Needle
For knitted fabrics with spandex
For highly elastic fabrics
If skipped stitches are an issue
For when you aren't sure whether your fabric is elastic

Super Stretch Needle
For thick threads
For thick seams
If needle breakage is an issue

Black Super Stretch Needle
Especially for sensitive, elastic materials, but also
For thick threads
For thick seams
If needle breakage is an issue
The list contains recommendations for common materials: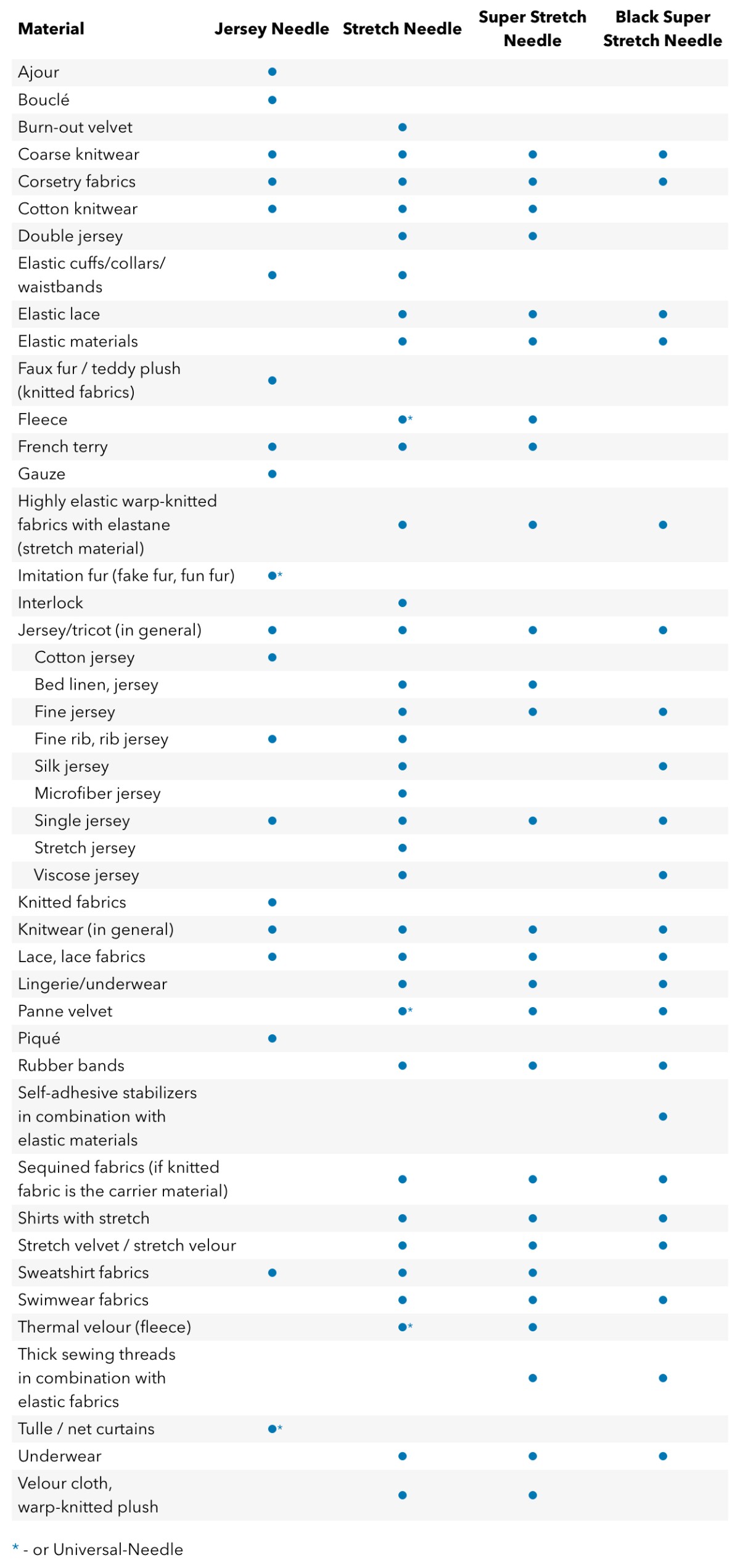 Make sure you only use a stretch stitch for all seams to stop them from tearing. This could be a small, simple zig-zag stitch (adjust the stitch length to 1.5–2 millimeters / stitch width 1 millimeter); however, plenty of sewing machines also offer so-called stretch stitches, or even overlock stitches.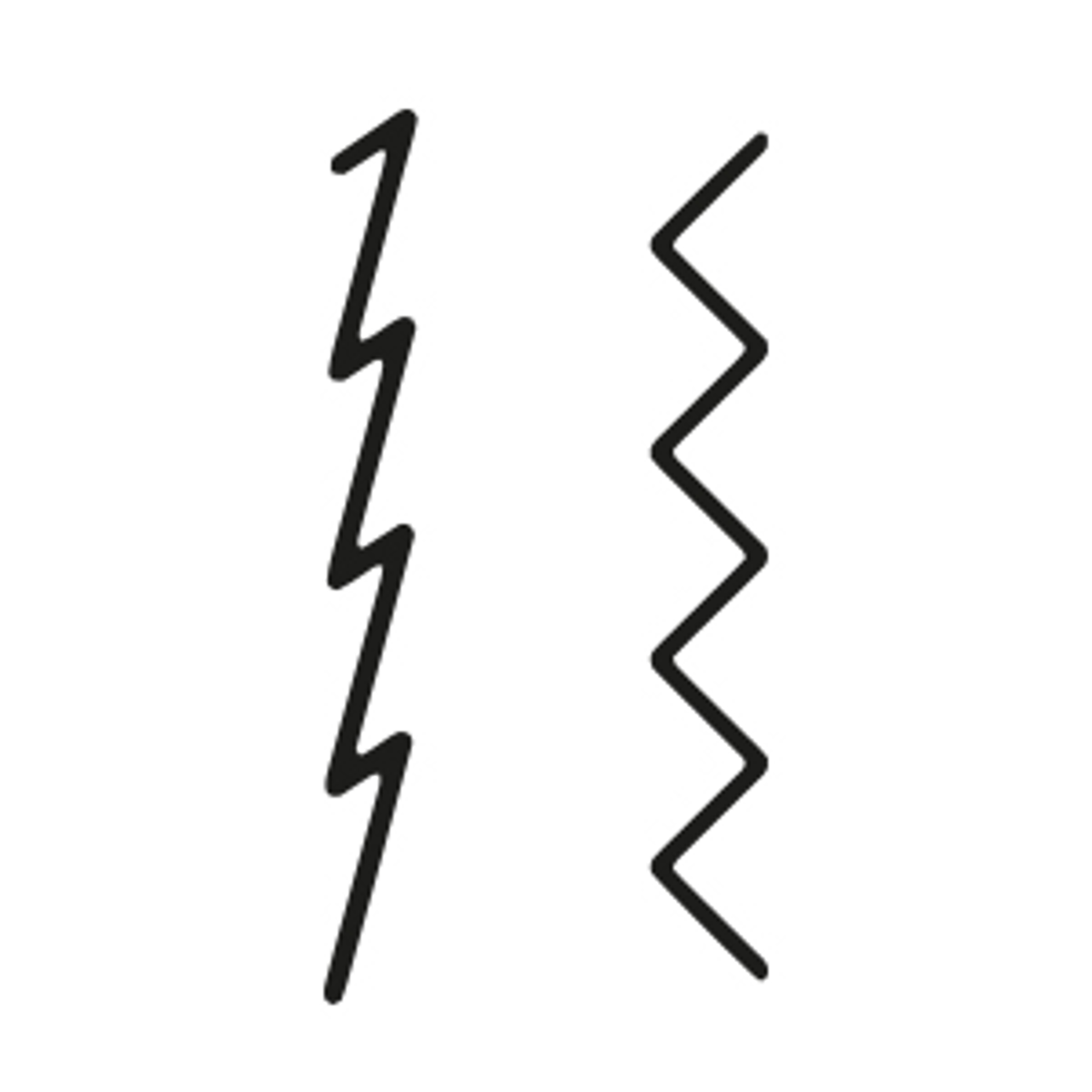 The Stretch Needle is also available as a twin needle:
For T-shirt hems and edging, we recommend using a normal domestic sewing machine with the Stretch Twin Needle NM 75 with a 2.5 or 4.0 millimeter needle distance. In this case, please note that the upper thread tension normally has to be adjusted. Placing a (water-soluble) backing underneath makes the sewing process easier and ensures that the stitching does not form a tunnel-like arch. If you have one, then you should of course use a coverlock machine for your hems. In this case, there are also needle types that are suitable for jersey fabric and knitted fabrics depending on the model you use.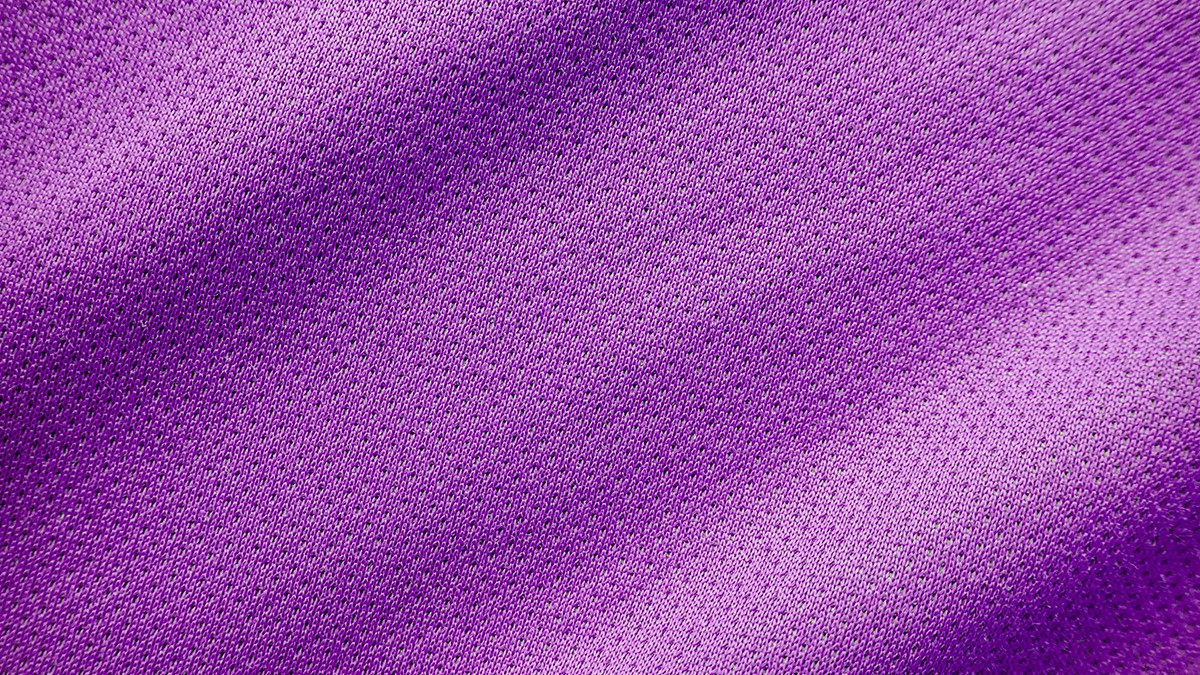 It all comes down to the needle
It is incredibly important to use the right needle size! If your needle is too thick, then even the right type of needle can produce ugly holes. So, make sure you always test the intended needle on some scrap fabric before sewing so that you don't get any nasty surprises. It is also important to make sure you use a new needle every now and then. If your needle becomes damaged or worn, then this could also lead to undesirable damage to the material. Experience shows that this can be avoided by using a new needle for every new project.