Black Super Stretch Needle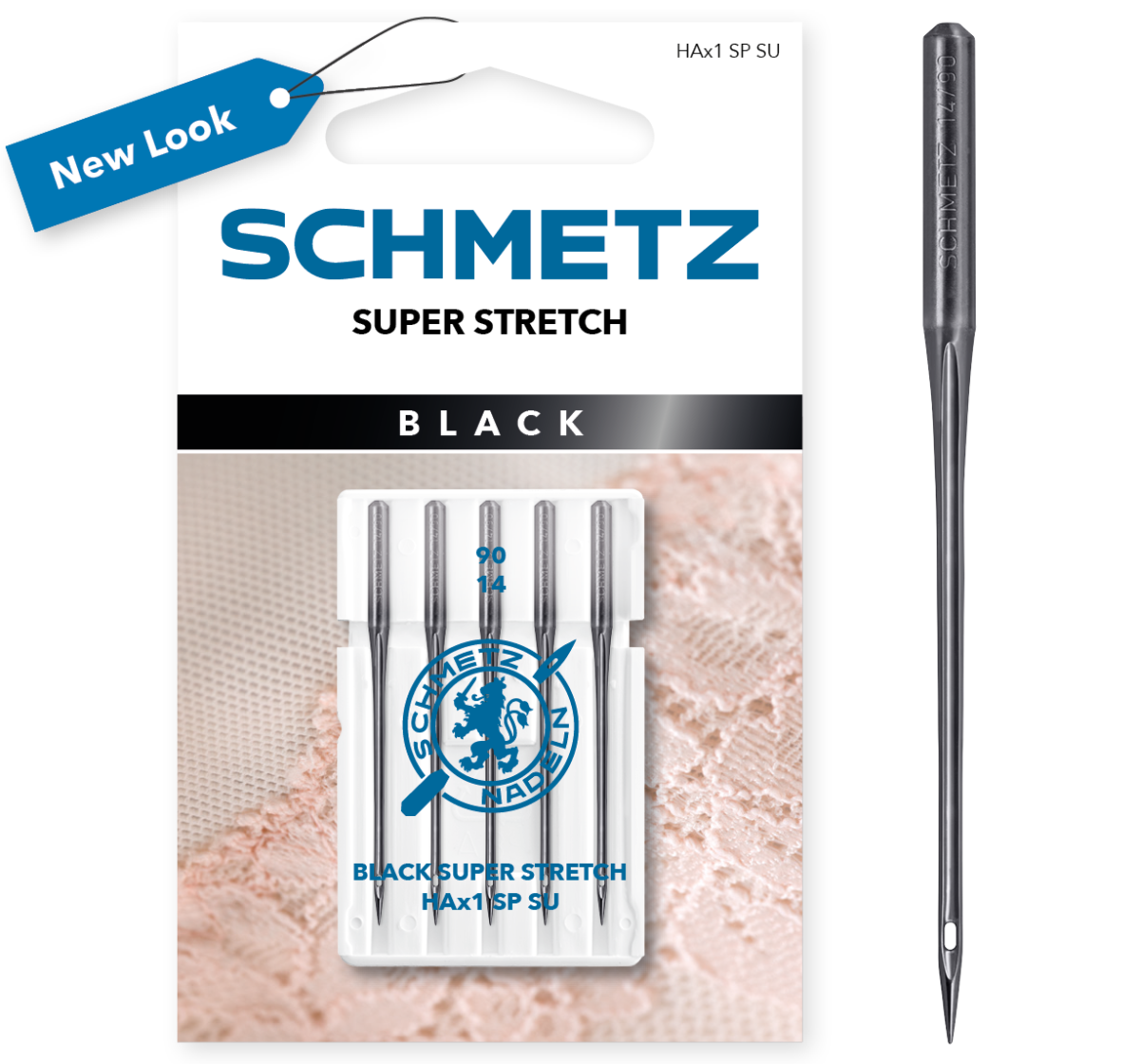 Needle system
Available needle sizes
Suitable fabrics/materials
Delicate, highly elastic stretch fabrics and knitted fabrics such as lingerie fabrics, swimwear fabrics, elastic lace
Key features
Stronger shank flattening
Point shape
Coating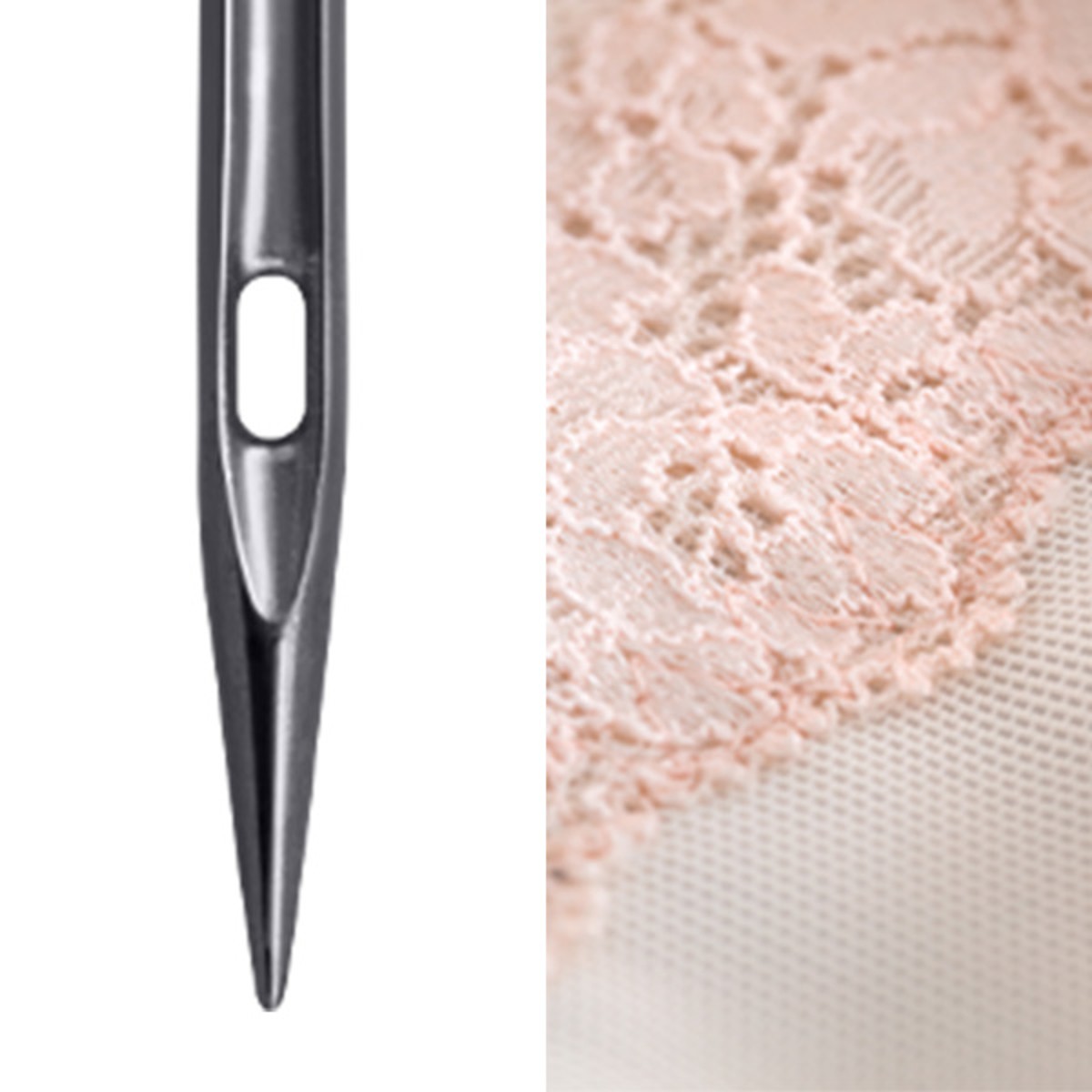 Delicate stretch fabrics and knitted fabrics often place high demands on the needle when sewing, which standard needles cannot always cope with. The Black Super Stretch Needle with its special properties is a great alternative here:
The gliding nonstick coating ensures gentle handling of delicate fabrics. In combination with the wide eye and widened thread groove, it also prevents thread tearing – even for thicker threads.
The shank is flatter than on other needles but still has the same diameter. The needle is therefore closer to the hook in order to prevent skipped stitches.
The special shape of the needle blade ensures elastic fabrics can be sewn without any problems, reducing needle breakage and skipped stitches.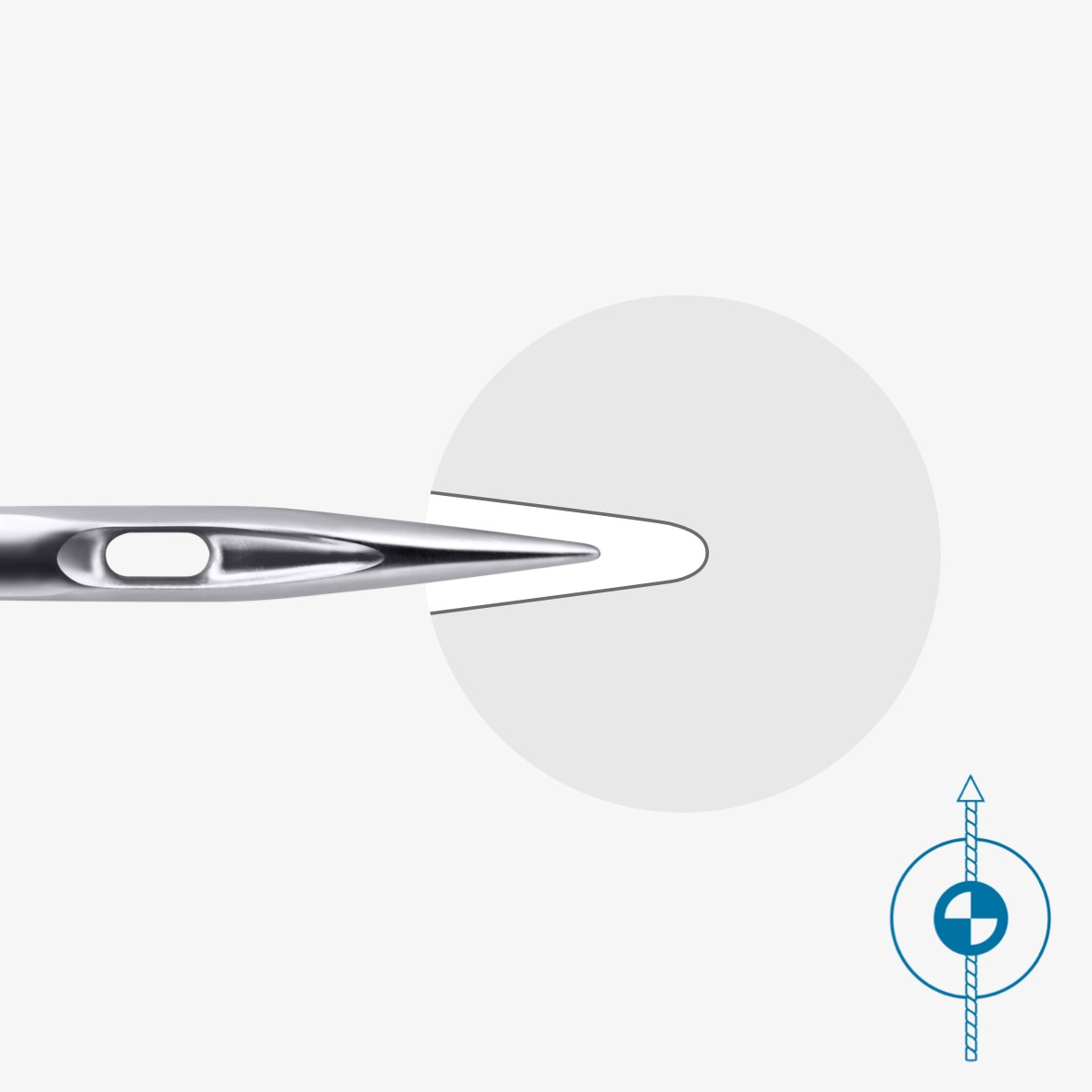 The threads in knitted and woven fabrics are pushed aside by the medium ball point, which prevents the material from being damaged.
The Black Super Stretch Needle can be used on all conventional household sewing machines (e.g. Bernina, Elna, Juki, Janome, Husqvarna, Singer, W6, etc.).
By the way:
It is normal for the surface of needles with a nonstick coating to become lighter from sewing over time. This does not affect the anti-adhesive properties. With very light-colored fabrics, we recommend "sewing in" the needle on leftover fabric for about 1 m before using it for the first time.

| | | | |
| --- | --- | --- | --- |
| | | | |
| Needle type | Black Super Stretch Needle | Super Stretch Needle | Stretch Needle |
| Available needle sizes | 75/11, 90/14 | 65/9, 75/11, 90/14 | 65/9, 75/11, 90/14 |
| Point shape | Medium ball point | Medium ball point | Medium ball point |
| Coating | Nonstick | Standard | Standard |
| Key features | Gliding, nonstick coating for gentle handling also prevents thread tearing and adhesion to the needle; stronger shank flattening and special blade design to prevent skipped stitches; wider needle eye and widened thread groove for thicker threads | Stronger shank flattening and special blade design to prevent skipped stitches; wider needle eye and widened thread groove for thicker threads | Special scarf/needle eye area, stronger shank flattening to prevent skipped stitches |
| Application range | Delicate, highly elastic knitted fabrics, use of thicker sewing threads | Elastic or highly elastic knitted fabric, use of thicker threads | Elastic or highly elastic knitted fabric |