EGGcellent embroidery ideas
With Easter only a few days away and the promise of spring being just around the corner, we feel a lot like decorating our homes for the occasion. As you are certainly feeling the same way, we've spontaneously prepared data files for some lovely embroidery patterns that we would like to share with you. Eager to get started? Below you will find everything you'll need for your new seasonal embroidery project.
#easter #2022 #embroideryfun #festivedecoration

Whether as cute accents on shirts or as eye catchers on table runners and cushion covers – knowing you, you will no doubt come up with a lot of own creative ideas for our embroidery motifs. Here's a selection of some of our ideas for inspiration.
Fabric to be embroidered (like basic T-shirts or cushion covers)
Embroidery download file of your choice:
Embroidery file "EGGcellent"
Embroidery file "Happy Easter"
Sewing machine with embroidery function and embroidery hoop
Embroidery threads in your favorite colors
Backing in one of the three sizes: 10x10, 15x15 or 20x20
SCHMETZ Embroidery Needle or SCHMETZ Gold Embroidery Needle


Embroidery Needle >
Gold Embroidery Needle >
1. First decide what kind of project you would like to realize: Is it to be a seasonal garment or rather a decoration for your home?
2. Select your favorite motif in the desired size and download it. Check which file format you need for your machine – we provide different standard formats.
3. Prepare the fabric to be embroidered, for example a basic shirt, or cut a piece of fabric. Our tip: Be a little more generous than usual when cutting. The fine cut after embroidery will then allow minor corrections, for example, if the finished embroidery motif turns out to be not exactly in the right place.
4. Upload the embroidery design to your machine that must have an embroidery function, and prepare the machine as usual: Insert a SCHMETZ Embroidery Needle or a SCHMETZ Gold Embroidery Needle and select thread to your liking. Make sure the thread contrasts with the color of the fabric.
5. Select the right hoop size for your embroidery motif and place the fabric and backing into the hoop.
6. And PLAY! Enjoy the project.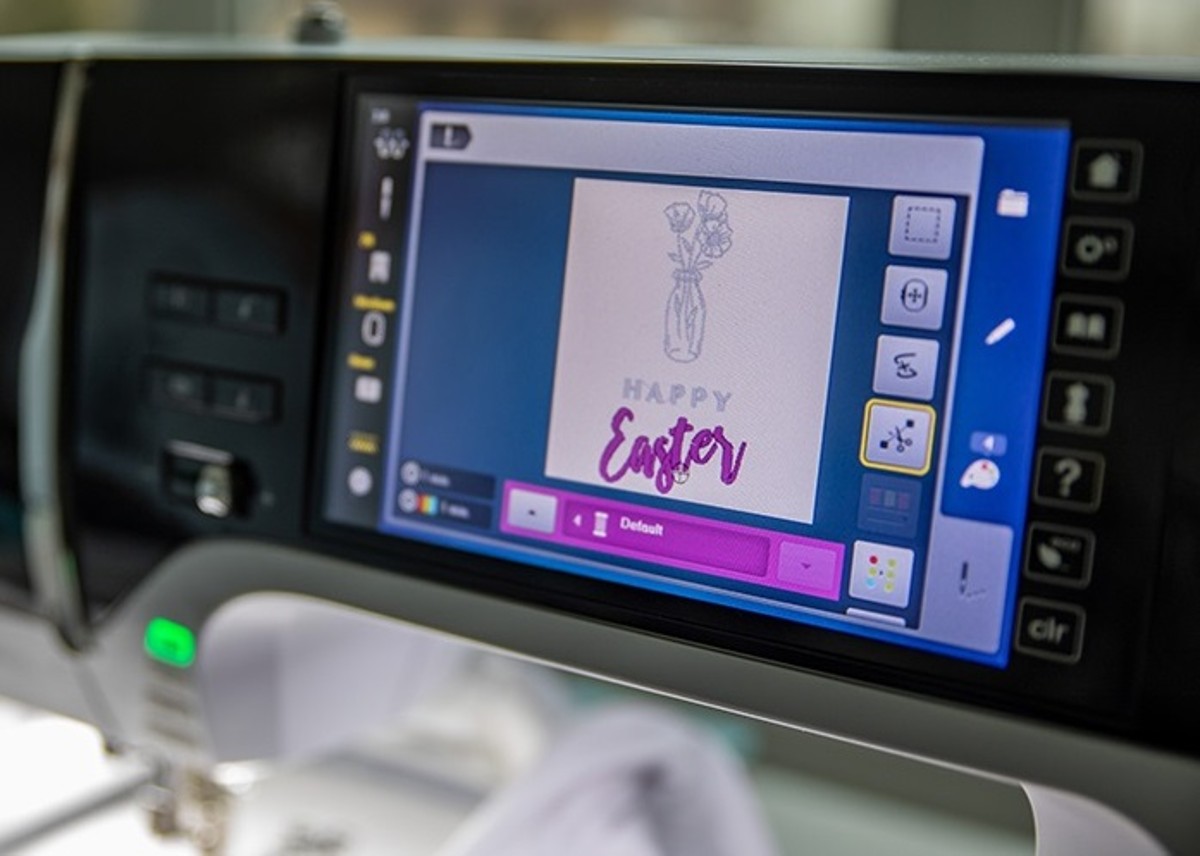 Our tip:
If you want to wear only the flowers or a part of the lettering proudly on your chest, you can of course also embroider only a part of the motif. Just leave out the embroidery colors of the areas that you don't want. After all, "HAPPY" is in season all year round ;-)