Gold Embroidery Needle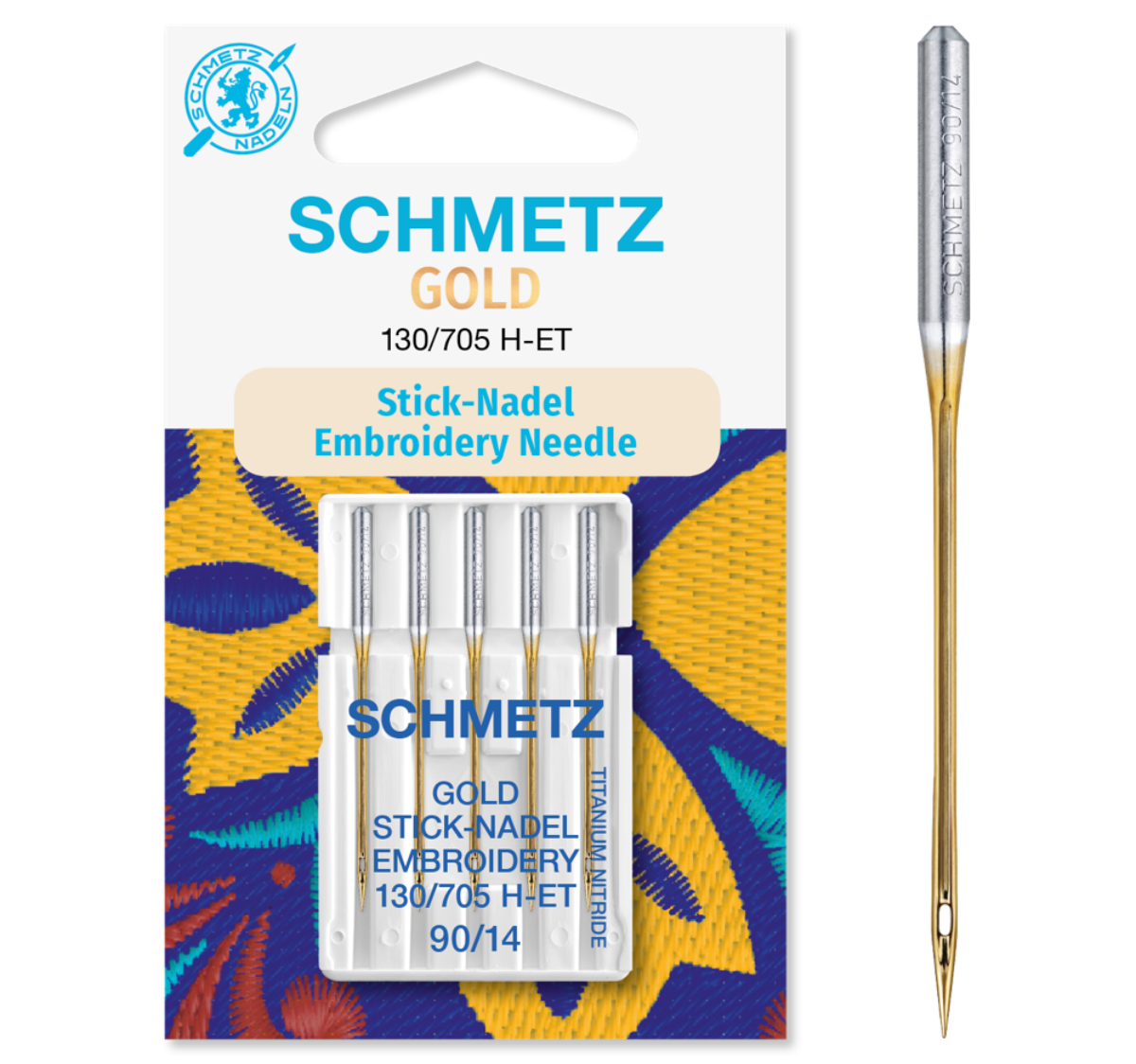 Needle system
130/705 H-ET
Tip
The Gold Embroidery Needle is particularly suited for beginners: minor operator errors are compensated by the extremely hard coating.
The needle enables even thicker threads to be fed in easily.
The easy yarn passage through the eye reduces yarn abrasion.
The needle is also suitable for metallic yarns with a more rounded cross section.
Suitable fabrics/materials:

For sewing and embroidery threads as well as thicker threads and effect threads
Can be used universally for embroidery and decorative stitching on a range of fabrics
Rigid, densely woven fabrics
Available needle sizes
NM 75, NM 90
Coating
Wear protection
Special feature
Harder surface compared to standard coating
Ultra-hard needle point
Large, hard-coated eye
Point shape
Medium ball point
Color marking
None (can be identified by the gold-colored surface)
Key features of the Gold Embroidery Needle:
The Gold Embroidery Needle has a particularly wide needle eye and a wide thread groove. These ensure that sewing and embroidery threads glide effortlessly through the groove and eye and are handled gently without tearing.
The Gold Embroidery Needle enables you to use decorative techniques with thicker threads or effect threads.
The medium ball point helps to avoid damage to the embroidery thread and the embroidery base.
Extra-long service life thanks to high-quality hard titanium nitride coating above a chrome platine:Insertion points are avoided in the embroidered design as the needle does not have to be replaced during the embroidery process.
Suitable for embroidery with embroidery machines, especially for designs with a high number of stitches
Also suitable for decorative stitches or freehand embroidery (needle painting) with household sewing machines
Tip: When sewing together rigid fabrics, the Gold Embroidery Needle also lasts longer than needles with a standard coating.
Needle type
Gold Embroidery Needle
Embroidery Needle
Universal Needle
Available needle sizes
75/11 and 90/14
75/11 and 90/14
60/8, 65/9, 70/10, 75/11, 80/12, 90/14, 100/16, 110/18, 120/19, 130/21
Point shape
Medium ball point
Medium ball point
Slightly rounded point
Coating
Wear protection
Standard
Standard
Key features
Hard coating with titanium nitride for extra long needle life.
Wide eye and widened thread groove for gentle handling of even thick threads and to help prevent tearing
Wide eye and widened thread groove for gentle handling of even thick threads and to help prevent tearing
Application range
For embroidery with a high number of stitches and/or for tough, densely woven materials

Perfect for normal embroidery and decorative stitching, even with thicker threads and effect threads
Universally applicable