Quilting Needle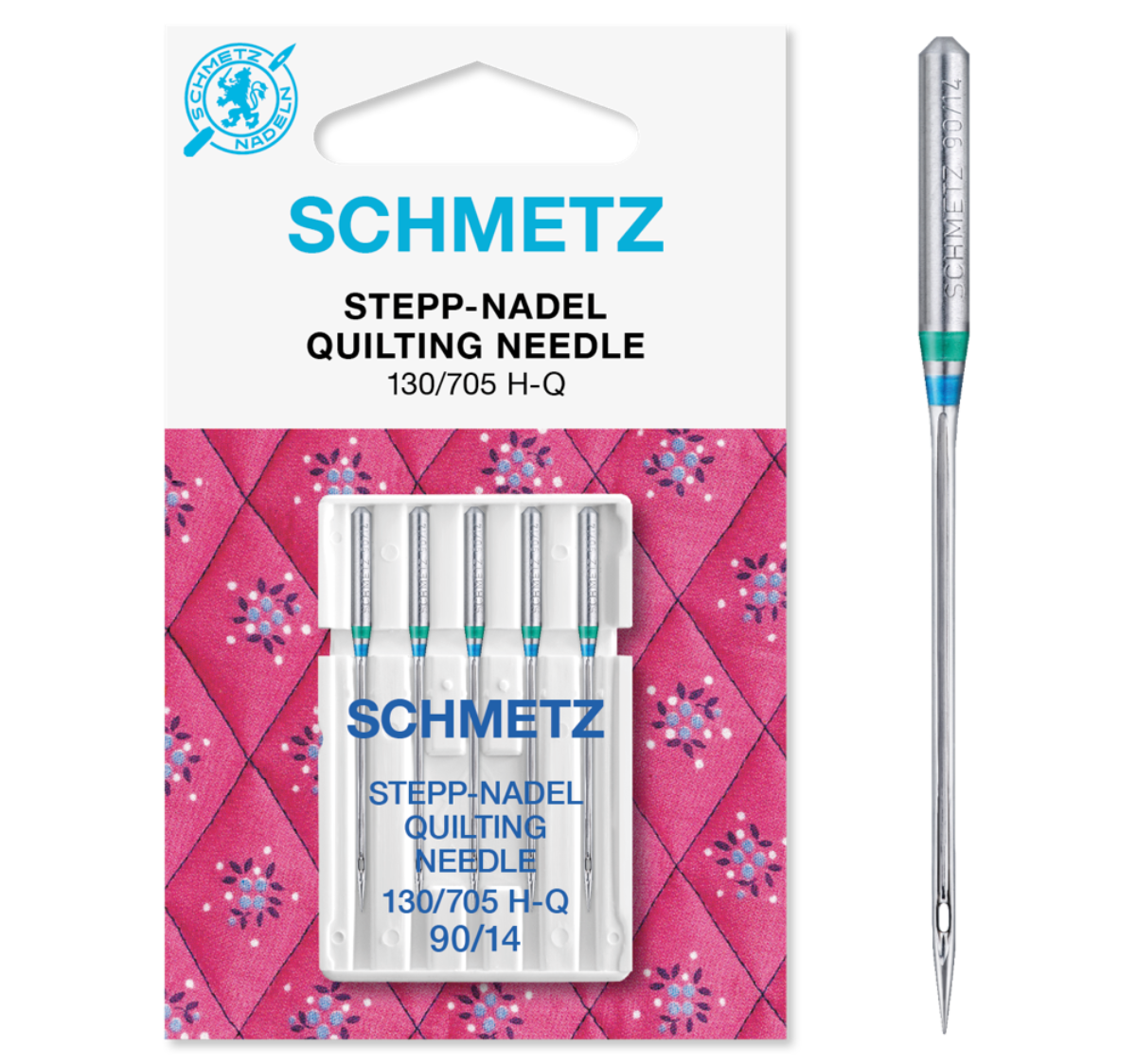 Needle system
130/705 H-Q
Suitable fabrics
Cotton fabrics for patchwork, topstitching and quilt work
Available needle sizes

Coating
Standard
Special features
Special blade design
Point shape
Slim, slightly rounded point
Color marking
Green
Key features of the Quilting Needle:
The Quilting Needle gets its name because it is mainly used in quilting for patchwork and topstitching work.
It has a slightly rounded point with a special taper. Due to its lower penetration resistance, it easily penetrates through the three layers of a quilt without damaging the high-quality fabrics. The slim point shape creates particularly small puncture holes and a clean seam pattern. It also ensures that the padding is not pulled out during quilting. The Quilting Needle's special blade design ensures high needle stability and thus reduces needle breakage and skipped stitches. Thanks to its high-quality chrome plating, the needle has a long life.
Tip: When sewing and quilting with straight stitches, you can achieve particularly straight seams and even stitches by using a straight needle plate.
The color marking on the needles helps you to identify your needles quickly: The top color shows the needle type and the bottom color shows the needle size. The top color marking on the Quilting Needle is green.
Thanks to their flat shank, Quilting Needles fit into all conventional household sewing machines (e.g. Bernina, Pfaff, Elna, Brother, Juki, Singer, W6,etc.). For special longarm quilting machines, you should consult the operating instructions in advance whether needles with flat shanks can be used or whether a special needle system with round shank is required.
| | | | |
| --- | --- | --- | --- |
| | | | |
| Needle type | Quilting Needle | Universal Needle | Topstitch Needle |
| Available needle sizes | 75/11, 90/14 | 60/8, 65/9, 70/10, 75/11, 80/12, 90/14, 100/16, 110/18, 120/19, 130/21 | 70/10, 80/12, 90/14, 100/16 |
| Point shape | Slim, slightly rounded point | Slightly rounded point | Slightly rounded point |
| Coating | Standard | Standard | Standard |
| Key features | Special blade shape has been optimized to prevent needle breakage and skipped stitches | | Extra long eye for use with multiple threads or thicker threads and to prevent tearing |
| Application range | Patchwork, quilting and topstitching | Universally applicable | For use with multiple threads or thicker threads |