Windbreaker
Have you already entered into autumn with a weatherproof outfit? If you're still looking for the perfect all-rounder, then you've come to the right place. We have a windbreaker for you, with all design options for you to decide. You always cut a fine figure with this pullover anorak in the transition period and cleverly stow away small things in the pockets. With the material selection, creativity knows no bounds – from denim to oilskin or nylon fabrics, nothing is impossible. And should the sun happen to come out, you can stow the whole jacket in the breast pocket using a clever folding technique – so you'll always have it handy when the weather gets nasty again.
#80sstyle #windbreaker #colorblocking #autumnstyles #autumnvibes
Tipp: Reflective elements such as piping, patches or fluorescent sewing thread are always an eye-catcher in the darker months of the year. Labels, color blocking and a great hoodie cord also go great with the pattern. And before you know it, the anorak will be your new favorite piece.
Note: We classify the project in the category of experts. Depending on which shell fabric you choose, the difficulty level will vary, of course. Nylon, for example, is a little trickier to work with than, say, denim. No matter which variant you choose in the end, the pattern is designed for non-stretch fabrics.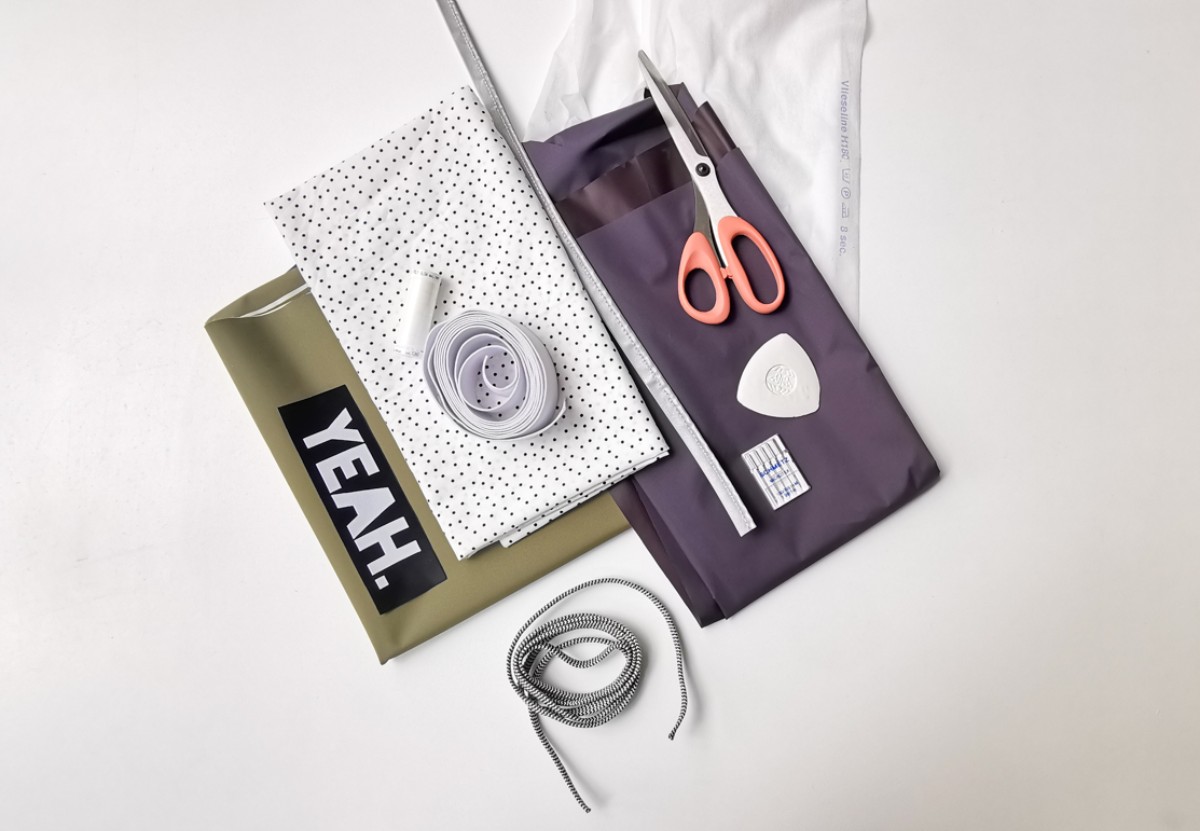 Shell fabric, 150 cm width (inelastic):
size XS: 2.05 m, sizes S - M: 2.10 m, sizes L-XXL: 2.15 m
We used nylon fabrics for our anorak.
Cotton, 140 cm width (100 % cotton): 40 cm
Drawstring 4 mm, 160 cm
Elastic band 30 mm width:
size XS: 160 cm, size S: 170 cm, size M: 180 cm, size L: 190 cm, size XL: 200 cm, size XXL: 210 cm
SCHMETZ needles suitable for the selected fabric. We chose the

Microtex Needle

in size 80 for the windbreaker. (The SCHMETZ

Needle ABC

can give useful information)
Constrast thread for topstitching
Interfacing H180


Microtex Needle >
Important: Our sizes cannot be compared with ready-to-wear sizes. It is very important that you take your measurements before you start.
Tie a tight threat around your waist and pin the ends together.
Take notes of your body measurements and use the measurement table to determine your sewing pattern size.
Compare your body measurements with the table measurements. Your measurements may vary between different sizes. Choose the size closest to your measurements.
Choose tops (for example dress, blouse, or jacket) according to the size of your bust; pants and skirts according to the size of your hips/waist.
Always compare the body measurements with the table measurements, never with the paper pattern pieces. All pattern pieces already include a comfortable allowance.
Are you taller or shorter? You can alter small differences directly on the paper pattern piece.
How to take measurements:
It is best to take your measurements directly on your underwear. Wear a bra that fits. The waist band should not be too tight around the waist (it must still be possible to adjust it).

Full body length: From to toe.
Bust: Over the fullest part of the chest. The measuring tape should be placed horizontally around the body.
Waist: Measure at the waist. The tape should be at the level of your navel. Add 2 cm if you prefer a looser fit.
Hips: Place the measuring tape around the widest part of your buttocks. The measuring tape should be placed horizontally around the body.
Back length: Measure from the bottom of the neck (protrudes slightly) to your waist.
Upper arm circumference: Place the measuring tape around the widest part of the upper arm.

Women's size chart, full body length 172 cm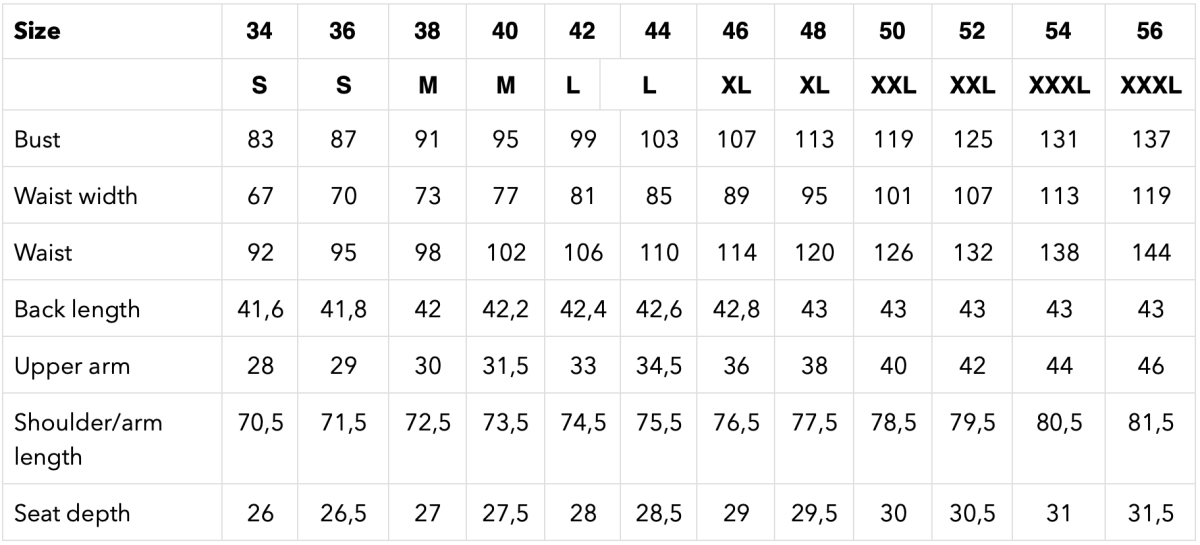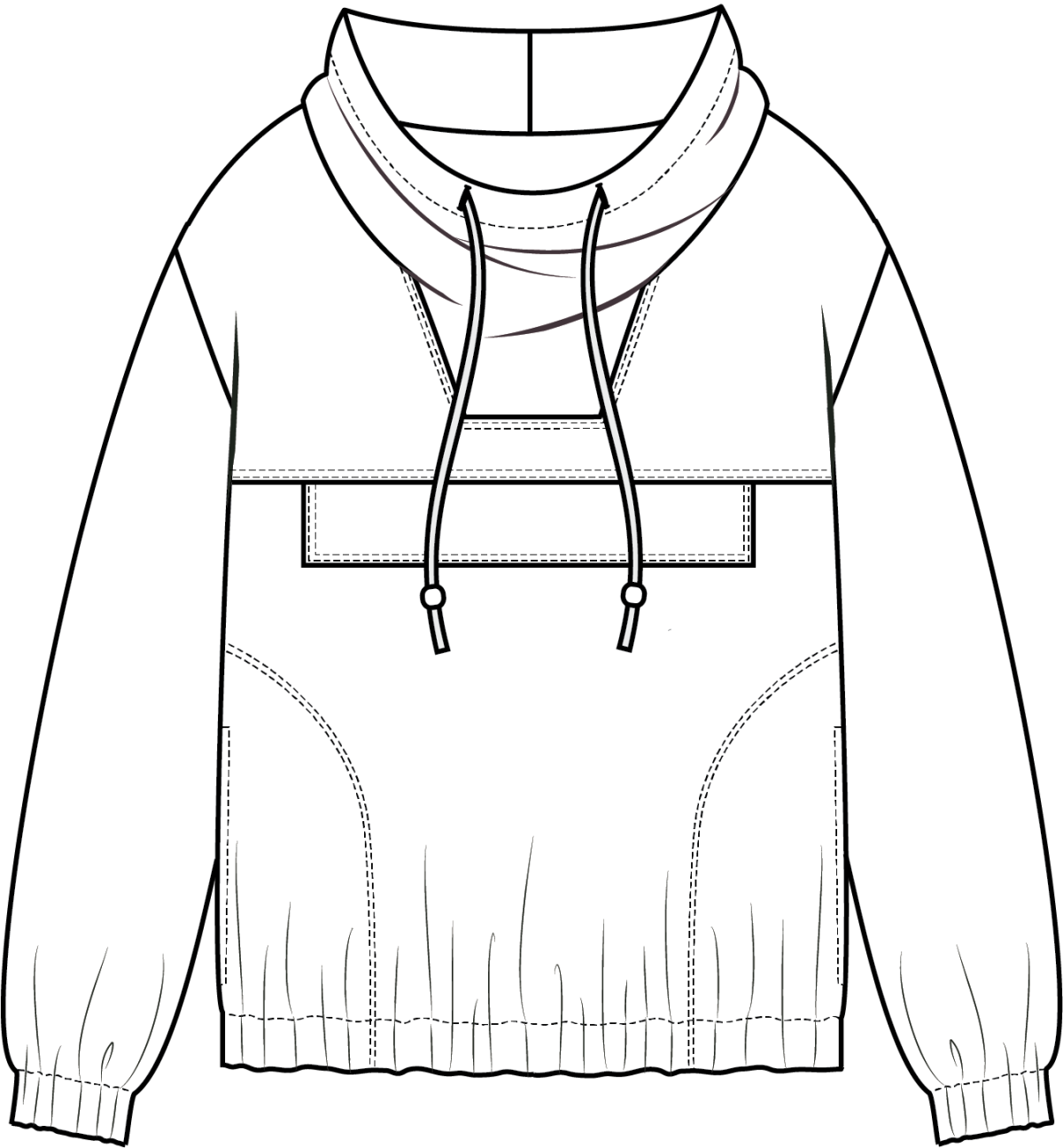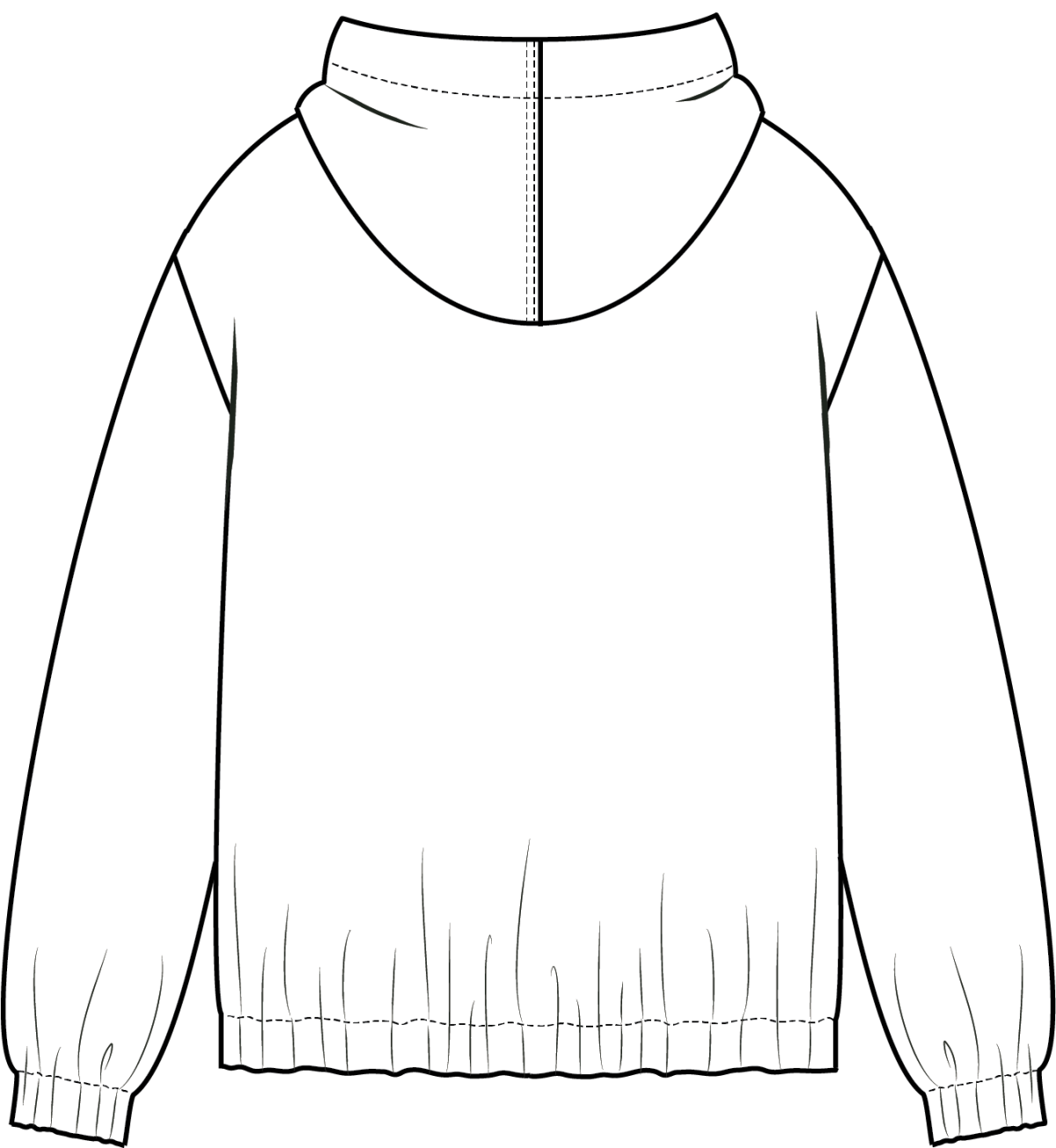 Sizes:
XS (S) M (L) XL (XXL)
Length:
69 (70) 71 (72) 72.5 (73) cm
Sleeve length:
80.5 (82) 83.5 (84.5) 85.5 (86) cm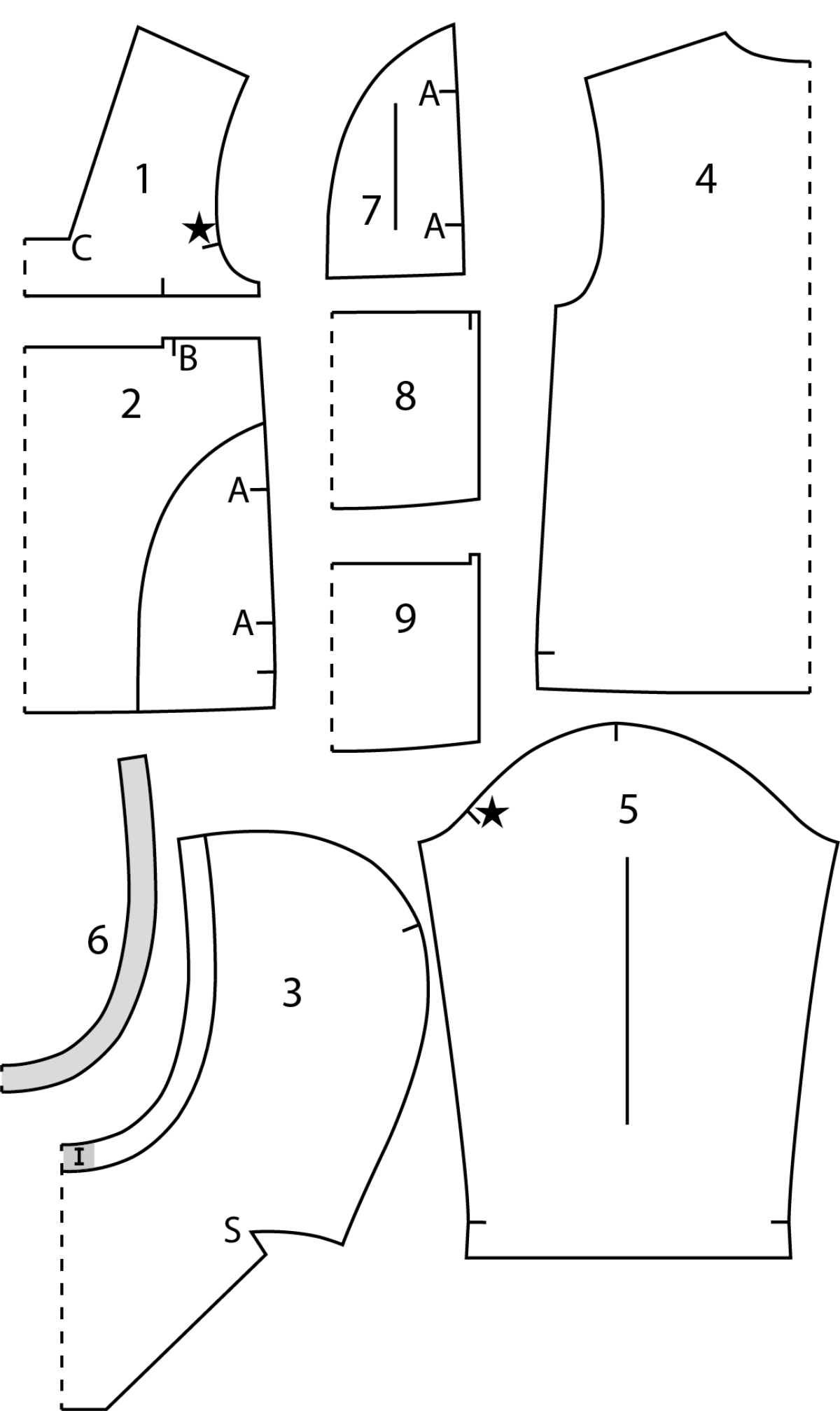 Shell fabric:
1: Upper front, 1 x on fold
2: Lower front, 1 x on fold
3: Hood, 1 x on fold
4: Back, 1 x on fold
5: Sleeves, 2 x
6: Facing (hood), 1 x on fold
7: Pockets (side seam pocket), 2 x
8: Pocket pouch (chest), 1 x on fold
Pocket flap (chest): 12 x 35 (35) 36 (36) 37 (37) cm (incl. 1 cm seam allowance)
Cotton fabric:
7: Pocket pouch (side seam pocket), 2 x
9: Pocket pouch (chest), 1 x on fold
Note: Trace the facing for the drawstring / hood in part 3 as extra pattern piece = part 6.

Time to get sewing! Sewing instructions
The sewing pattern includes 4 cm seam allowance for hem and sleeves. Add 1 cm seam allowance for all other edges and seams. All pieces are sewn together right sides together unless otherwise noted.