Good things come in twos … or threes
You have already gained extensive experience with SCHMETZ single needles, such as the Universal, Stretch or Jersey Needle, and are now looking for a new challenge that will allow you to explore new worlds of sewing? Then we recommend to use our twin and triple needles for your next DIY project.
Their special feature: twin and triple needles consist of two or three blades that are connected to a single shank by a plastic bar.
To all the skeptics out there: It's true that these special needle types require a certain amount of preparation and dexterity when it comes to machine settings. But with a few useful tips, you will no doubt get that right.
#sewingknowhow #twinneedles #tripleneedles
Many ideas … plenty of choice
SCHMETZ offers a wide range of twin and triple needles to meet the requirements of your creative projects. The needles are available in different types, sizes and spacing. Here, too, the needle choice depends on the type of fabric used and/or the relevant application. In the SCHMETZ Needle ABC you can find the whole variety of our needles.


The settings make the difference

Like most household needles, SCHMETZ twin and triple needles have a flat shank and are inserted into the needle bar in the same way: The flat side of the shank pointing to the rear.
Twin and triple needles can be used in almost all household sewing machines. Your machine should be suited for zigzag though, i.e. have a transverse hook and a needle plate with a hole wide enough for the needle. If you have different needle plates to choose from, select the zigzag needle plate. Also, be sure to choose a zigzag foot with a wide hole instead of a straight stitch foot.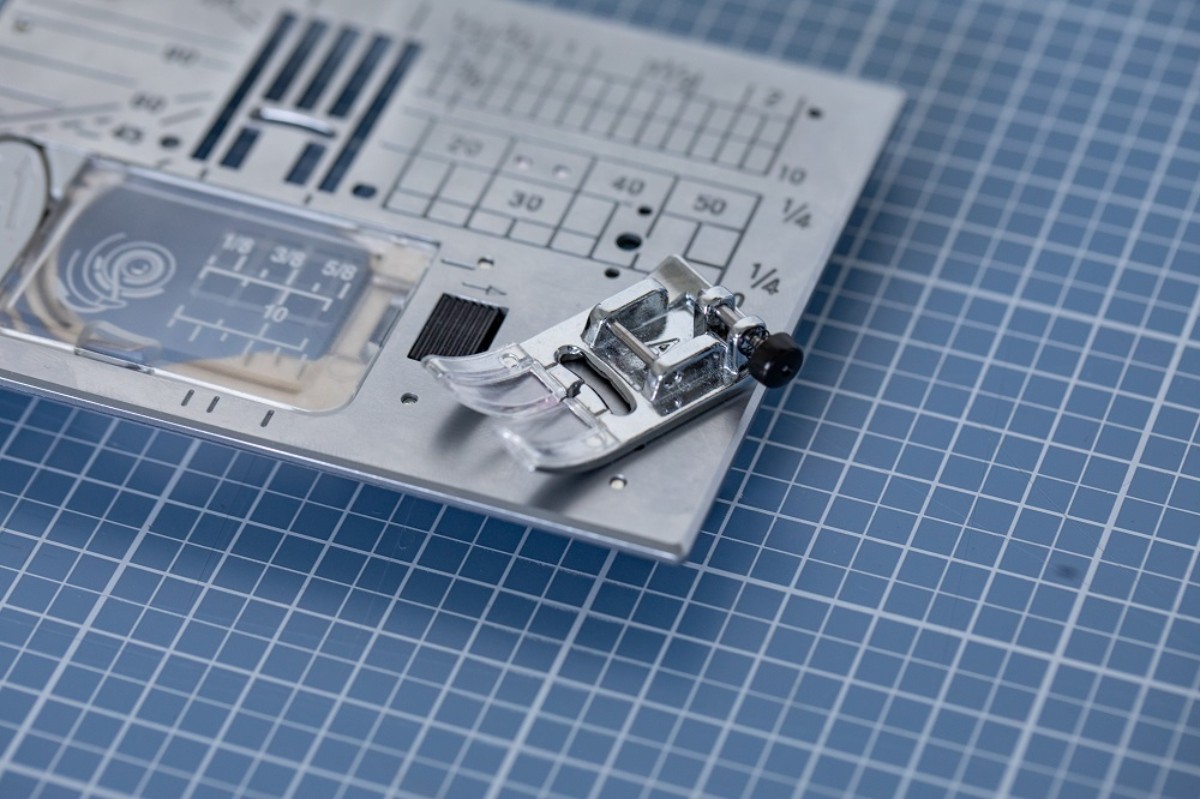 Threading like a pro – step by step

1. Also for twin and triple needles use a single bobbin, loaded as usual.
2. Now it gets special: For each needle eye you need a separate thread spool, so that each needle has its own thread source. This means that several spool pins are required. Most sewing machines are equipped for this application and have a second spool pin. If your machine does not have this option, you can wind an additional bobbin and use it as a second thread source on the single spool pin. In that case, make sure that the bobbin and spool rotate in the same direction. Another alternative is to buy an additional spool pin, which is usually very inexpensive.
3. Thread your machine with all needle threads as if it were only one thread. Exception: Some machines have special separating possibilities. In this case, please follow the instructions in your machine's manual.
4. Separate the threads just above the needle and insert them one by one into the thread guides before finally threading each needle with its own thread.

Let your creativity flow
Before you start sewing, here's a tip: Some sewing machines have their own twin needle button that automatically limits the stitch width and prevents unsuitable stitches from being selected. This rues out needle breakage from the start.
Now you're ready to get started. We recommend to test the thread tension on a piece of fabric scrap first. Make sure the bobbin thread zigzags slightly in the seam. This ensures that the seam is elastic, which is necessary for T-shirt hems, for example.
Please note: Sew thick seams a little slower to prevent needle breakage. Do not push or pull the fabric while sewing. This can lead to irregular stitch length and, in the worst case, needle breakage. To make sure you get a nice, smooth seam without puckering, you can use spray starch before sewing or use a water-soluble stabilizer while sewing.
Most of you are familiar with the Stretch Twin Needle for sewing t-shirt hems, as it allows to easily achieve elastic seams with a professional look. The Jeans Twin Needle is mainly used to create professional decorative seams such as side seams, hems and belt loops on jeans or similarly thick fabrics. But sewing with twin and triple needles also opens up many other creative possibilities, such as:
Sewing both sides of a narrow ribbon or braid at the same time
Adding texture with pintucks
Creating shade effects in translucent fabrics
Adding decorative seams to clothing, quilts, accessories etc.
Sewing creative hems and hide bending lines when letting down a seam

With twin or triple needles you can also give a personal touch to finished garments. Just by playing with the width and length of a normal zigzag stitch, you can create many variations. You will be surprised!