3, 2, 1 ... Beet trend!
Whether as a gift or for your own use – things that are both functional and have a great design are always well received.
On the search for ideas for trendy decorations for the kitchen or dining room, a concept emerged which offers countless variations. Have we aroused your curiosity? Then you're in the right place, as you can create a unique eye-catcher from leftover fabric in just a few steps. The red beet makes a really useful pot holder or trivet, but also looks great as a decorative piece on the table or on the wall!
#versatile #BIO #HomeDecor #minimalist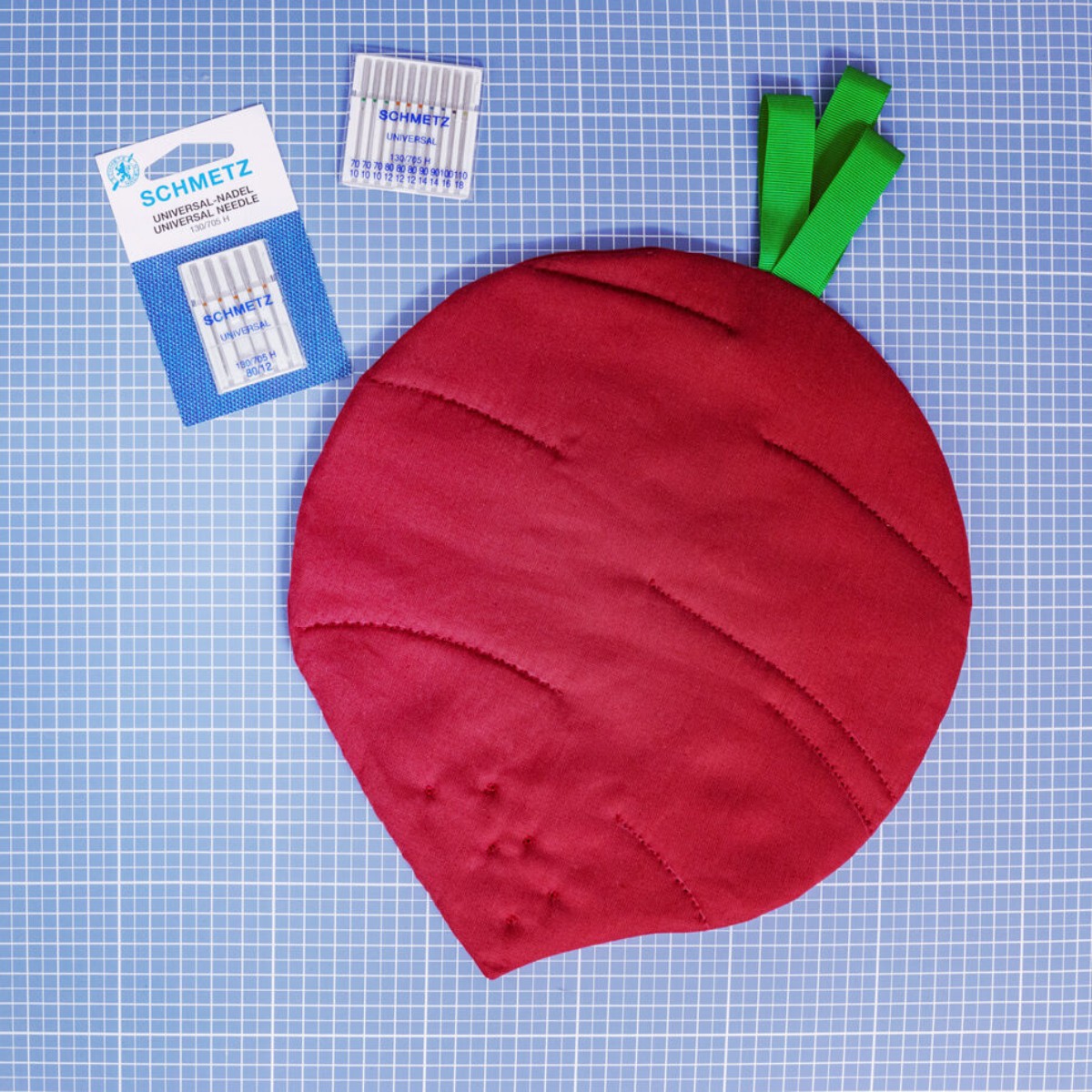 Materials for a red beet with the dimensions 22 x 24 cm:
Heat resistant fabric (e.g. pure cotton or pure linen) with the following dimensions:
2 x 24 x 26 cm for the outer fabric
1 x 20 x 24 cm for the insert
3 x 22 x 24 cm heat resistant batting (e.g. Thermolam, Insul-Bright and similar)
Approx. 53 cm string / ribbon cut to: 1 x 15 cm; 1 x 18 cm, 1 x 20 cm
Matching or contrasting sewing thread (as desired)
SCHMETZ universal needle with the needle thickness 80/12 or 90/14


Universal Needle >
Note: The cutting pattern includes a 1cm seam allowance. For an optimal result, the cutting pattern should be printed in the original size (100 % scale). Simply check the size of the control square after printing. All fabrics should be pre-washed, dried and ironed to prevent the item from shrinking. Unless otherwise specified, lock all seams at the start and end.
Equipment
Domestic sewing machine
Iron and ironing board
Pins or clips
Tailor's chalk or a pen to transfer the pattern where necessary
Ruler or tape measure where necessary
Scissors or rotary cutter with cutting mat
Time to get sewing! Sewing instructions
Children's room:
Whale
Chick
Acorn
Sheep
Rainbow
Kitchen:
Leaf
Radish
Fish/blowfish
Apple, pear
Lemon
Avocado
Pineapple
Tip: For some motif ideas, faces or dots can also be sewn on by hand. Layering different fabrics can also create great effects (e.g. make the belly of the whale a lighter blue than the rest of the body). Patchwork also works great with this project.


In a small design, the stitched works of art are also perfect as:
Key rings
Toys for babies
Decoration on a pushchair chain
A sensory element on a crawl blanket.
There are no limits to your imagination.