Suits you
On the hunt for fresh ideas? We have a DIY project for you that is not only bang on trend, but also really fun to make: a white statement collar. With this must-have piece, we will be enjoying spring 2021 in romantic, feminine style, while at the same time still satisfying our lust for handmade accessories. Check out the instructions!
#accessories #collar #fashionstatement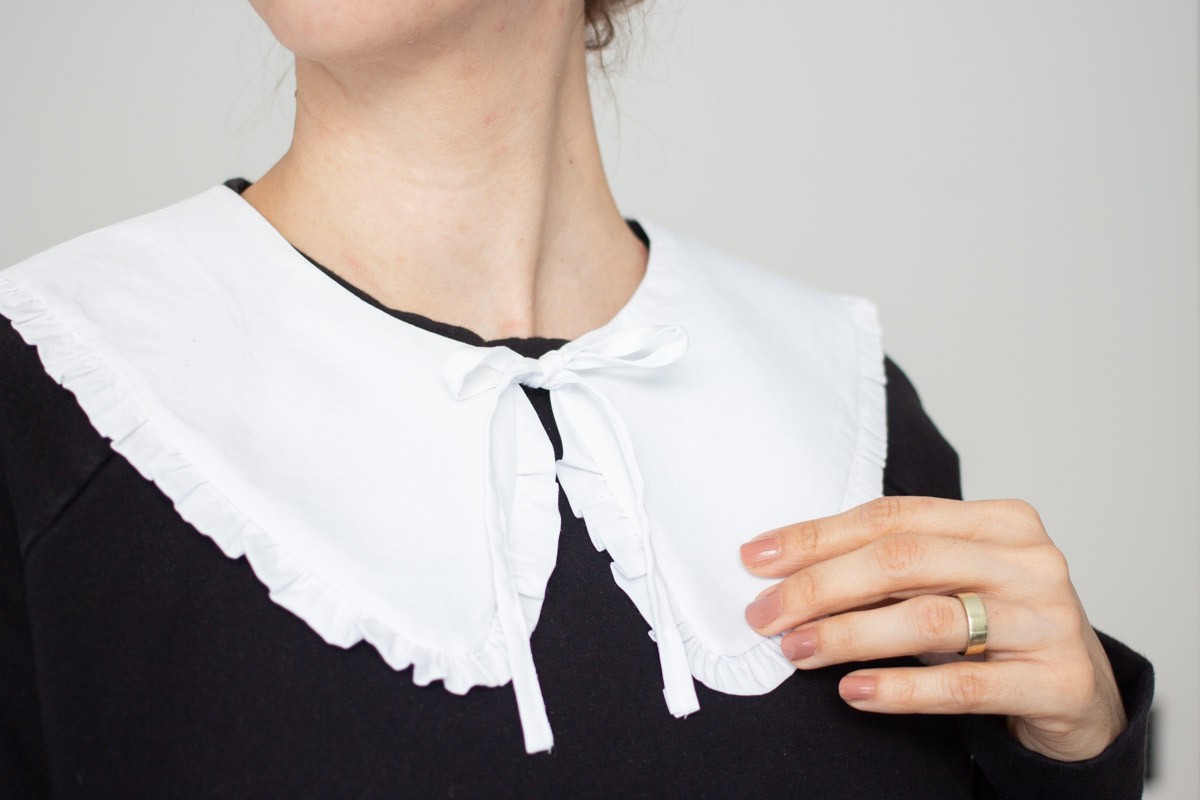 SCHMETZ needles suitable for the fabric you choose. We chose the

Universal Needle

in size 75 for the collar. (The SCHMETZ

Needle ABC

can help you to find the right needle.)
Approx. 50 cm fabric
(The fabric must not be stretchy. Cotton poplin is best. For thinner fabrics, we recommend reinforcing one side of the collar with a very light fleece lining ,e.g. H200.)
Thread to match your material
Sewing machine
Fabric scissors


Universal Needle >
Fabric:
Wash and iron the fabric before starting your project.

Pattern:
The seam allowance of 1 cm has already been taken into account in the pattern. Print the pattern onto A4 paper (2 sheets). When doing so, make sure that the printer does NOT make any page adjustments. To check the scale, measure the test square; it should be 6 cm x 6 cm. Now cut off the paper strip along the gluing line on one page and position the second page there. Glue the pattern together as positioned and cut it out.

Cutting:



Collar section: 2 x on the fold (plus 1 x from fleece lining depending on the fabric)
Tie 2 x
For optional ruching: 6 ruching strips, 5 cm x 40 cm


Tip:
To cut the collar, fold the fabric at an angle of approx. 45° and place the pattern on the resulting fold.
Time to get sewing! Sewing instructions